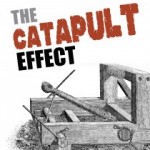 Here's what Lewis Miller of Office Source observes about my new book:
I don't know about you, but it's getting harder and harder for me to ignore a pattern in the stream of business advice out there these days – namely, that now is a wonderful time to set yourself apart from the competition by making a really bold commitment to being the best!
I saw it again recently in a dynamic little book by Robert L. Butt entitled The Catapult Effect: Using Short-Term Crisis to Catapult Long Term Success. In this inspiring book Butt urges all of us to tap the entrepreneurial spirit within, rally the troops and "pull out all the stops" to blast holes in the fortress that's keeping us from our goals.
It's not advice for the faint hearted, that's for sure. But my own observations confirm that, during the last twelve to eighteen months, some customers have abandoned their usual suppliers due to cuts in service, and a "stripped down" approach that seems to reduce value. Are you and I among the companies getting new customers as a result – or are we among those seeing declines?
What are your observations? How are you taking advantage of the current climate? And how can we help each other "load up" our catapults? Your comments are welcome below.
And Robert Butt's book is available as a free download from his website: www.marketingperformance.net Enjoy!
Tags: business book, business marketing, Catapult Effect, change your business, Lewis Miller, Lewis Millers office, reinvent your business